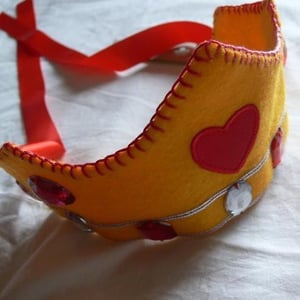 $

25.00
Your owlet will love to wear this soft, comfortable and regal felt crown. Made from quality dutch wool felt, an embroidered motif, bright coloured jewels, glued and hand stitched for safety. The crown ties with a satin ribbon and is finished with variegated embroidery thread, blanket stitched at the edge. A great idea for birthdays, or for dress-ups any day.
This is a custom order. Here's how it works...
On placing the order, please let me know what your little one's favourite colours are and motifs they might like. I'll make the crown using what I'm able to source. I'll try as hard as I can to match what you've asked for, but ultimate design will be determined by me, working with what I believes looks best and what I can source.
You will need to allow 2-3 weeks for delivery.
Ages 3+