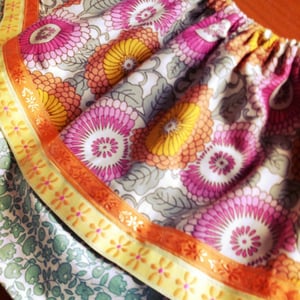 $

35.00
So comfy, twirly and fun, this skirt is perfect for going out, staying home or exploring around the garden...
Made from two full layers of 100% cotton. Two rows of ribbon trim and an elastic waist. Falls to just below the knee.
This is a custom order. Here's how it works...
On placing the order, please let me know what your little one's favourite colours are and motifs they might like (birds, butterflies, spots...). I'll make the skirt using fabrics from my stash, or new fabrics specifically purchased. Fabrics may be a mix of old and new, some repurposed. I'll try as hard as I can to match what you've asked for, but ultimate design will be determined by me, working with what I believes looks best and what I can source.
I can work with printed cotton, denim or corduroy.
This mai tai comes with or without the felt letter applique in the photo. If you would like to add a felt applique letter or shape, please select that option at checkout. It costs $2 extra.
Sizes available are 0-1, 2-4, 4-6, 6-8... I can make adult sizes too. Just ask!!
I have found that the shape and elastic waist allow this skirt to be worn for a number of seasons, hence the fairly open sizing.
You will need to allow 2-3 weeks for delivery.